Meet Women at International Dating Singles Tours
In simple terms, LoveMe.com and A Foreign Affair are the same dating services where men look for their soul mates from South America, Asia, and Eastern Europe. Although LoveMe.com is a dating site with profiles, the AFA division of the dating agency specializes in romantic dating trips abroad. We'll only use the name of the online dating service to avoid any misunderstandings. On this website, you can contact and talk with young women who desire to be married abroad.

With its 1995 founding, Loveme.com became one of the first dating services to offer marriage services. Due to their extensive dating experience, they were instrumental in several happy foreign marriages. LoveMe.com is a full-service marriage agency in addition to being a dating website where you can meet attractive women. They provide a variety of services, including romantic tours, dating advice, drivers, and translators, as well as assistance with various international marriage-related difficulties. Anyone can sign up for free and browse the women's profiles, but if you want access to more matchmaking services, you must buy a platinum membership.
Thousands of users have visited the dating site each month since 1995.
Premium membership is the most popular subscription.
Women from Eastern Europe, primarily from Ukraine and the former Soviet republics, South America, and Asia, make up the bulk of site users.
Finding the ideal match is difficult given the wide variety of profiles of foreign women with distinct nationalities.
The International Marriage Broker Regulation Act (IMBRA) ensures that A Foreign Affair is conducting business legally when it comes to meeting the foreign bride. The business proprietors also found their wives in Soviet countries by using their own services. They have physical proof of the effectiveness of their website.
LoveMe.com Prices
Platinum membership (one hundred email addresses in a package) is $95 for the first month and $29.95 for each subsequent month.
Anyone who wants to find love overseas can sign up for free on LoveMe.com.
Three membership levels—platinum, gold, and silver—are mentioned on the website, but we can only discover information about platinum and non-platinum memberships.
You have access to thousands of profiles with free basic membership. You can receive a woman's email address by sending her a message for $9.99 if she piques your interest in her. You can carry on your communication in a variety of ways without incurring any further expenses once you have paid for the specific email address.
You can change your membership level to Premium if you wish to receive specific incentives and discounts. The initial month's fee for this membership was $95.00, and subsequent months' costs were $29.95 each. The cost of sending a letter to a specific email address is also $9.99, but if you are a premium member, the fee is $2.50 per message or $7.49 for letters that need to be translated. You can utilize all the advantages of the Basic Membership with the Premium Membership, including a bundle of Hundred email addresses to send or receive messages, free access to all the women's videos, instant mail, and extra translation tools. You can receive a woman's postal address if she doesn't have an email address on the website by using A Foreign Affair's Express Mail and paying an extra $9.99, or $7.99 if you're a platinum member.
Lastly, if you are interested in spending quite a bit of money, you can upgrade your membership to Executive, where you can have a personal consultant, have three-way phone calls with an interpreter, have the opportunity for video messaging, have in-depth conversations with different women, have private meetings, and receive assistance from an immigration lawyer, among other things. The cost of executive Membership varies depending on where you live.
International Romance Tours
Every romance tour has additional expenses and includes all accommodation and transport arrangements, making this travel deal rather pricey. If you want to go on a tour, it is best to prepare beforehand and read a few reviews on various websites to get a sense of what to expect and discover your soul mate. It's not a cheap alternative; therefore, it's important to research both the good and bad experiences. You must be careful not to get carried away and acquire extra features that you don't need because practically every extra function comes at a cost. Examine the various offers and packages carefully before making any purchases.
Considering that there are thousands of profiles for international mail-order brides, having an advanced search tool is crucial. They provide a straightforward and user-friendly search function that enables you to do searches using particular words, traits, or interests. You don't have to look through every profile to locate the right match because the dating site will create all the profiles that contain that specific term once you enter your specific words for advanced searching.
If a woman piques your interest, you can contact her by writing to her, calling her with a translator, or going on one of A Foreign Affair's romance tours to see her in person. LoveMe.com offers you the option to deliver gifts and flowers to the girl's home country. The woman of your desires can be found on one of the romance tours that LoveMe.com arranges all around the world. The website manages every aspect of your dating trip, including a tour guide to show you around the city, visas, hotel reservations, transportation, social meetings with the women you want to meet in various local hotspots, and 24-hour customer service for any issues that might arise.
Before signing up for a romance tour, it is preferable to buy a membership, get to know a few ladies, and start communicating with them via letters, images, or phone calls. This way, when you arrive in the city, you will know roughly what to expect from your romance tour. However, if you prefer socializing with new people, you can attend other events that A Foreign Affair hosts. There are a lot of gorgeous women at these events. There are more than seventy-five different romantic trips available. A Foreign Affair, including group or private tours, live discussion groups, and more also provides numerous additional services.
Popular romance tour destinations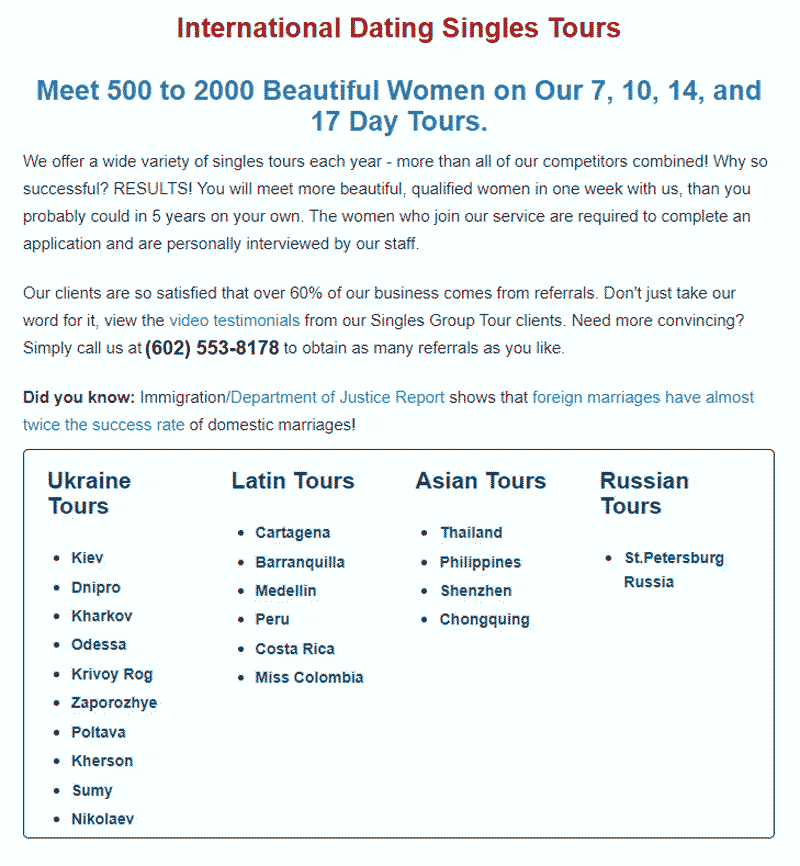 Singles from all over the planet rely on AFA Tours to dream about finding an ideal wife
When visiting LoveMe.com for the first time, you can feel a little bit overwhelmed by all the links and information that are provided. The website is stacked with hyperlinks, it has an unprofessional appearance, and there are so many sections and images that you won't know where to begin. In addition to being challenging for people of all ages to use, LoveMe.com provides practically all information without requiring registration. The website gets easier to use after some time spent using it.
Is LoveMe.com (A Foreign Affair) pricey or affordable?
When compared to other dating sites, LoveMe.com is expensive because a platinum membership requires a hefty joining fee as well as a respectable $29.95 per month to keep the subscription current. Yet, it becomes a worthwhile purchase when you consider the "bonuses" that are included in your membership plan and the advice that is offered on the website. Along with the price of purchasing the email addresses, you will also need to pay for email and phone translation services if you consider the gold and silver premium memberships. If you decide to send no more than two emails at a time, it can be inexpensive. This, however, is impractical. The only thing that makes sense is to purchase a platinum membership, which is what LoveMe's pricing structure is intended to entice you to do.
Similar to other dating websites, creating an account is free. However, there is a cost associated with using services like email and translation. You will rapidly see that this is the norm for practically all dating websites, making free membership useless. You can take part in LoveMe's romantic trips and any encounters with potential matches as a premium member, according to the dating site. The benefit of buying a LoveMe.com platinum membership is that you can see the girls' additional photos as well as their pictures on their profiles. Some profiles of women with gorgeous photographs serve to justify the membership fee.
Registering at LoveMe.com
You can browse through thousands of various women's profiles once you register on the website. Making your profile and adding your images is a simple and painless part of signing up. Every profile includes at least one picture, details about the physical appearance, such as weight and height, age, college degree, marital status, race, faith, drinking preferences, whether you have children, and a free-form description of your ideal partner. It may also include information about your special qualities, passions, and interests.
LoveMe.com makes no guarantees about the confidentiality of your data or the precision of the translation services you purchase. There are many other topics you can talk about with the possible dates without disclosing important information, so use caution while disclosing your personal information to others. There are many scam allegations of people being taken advantage of on the website because no one checks the veracity of the content provided. There have also been reports of numerous fraudulent profiles. There are certainly some fantastic success stories, but it's crucial to keep using prudence and judgment. To avoid any obvious red flags, such as an excessively materialistic mindset or an issue that doesn't quite line out, take time to get to know someone. Here, errors could have a negative mental and financial impact.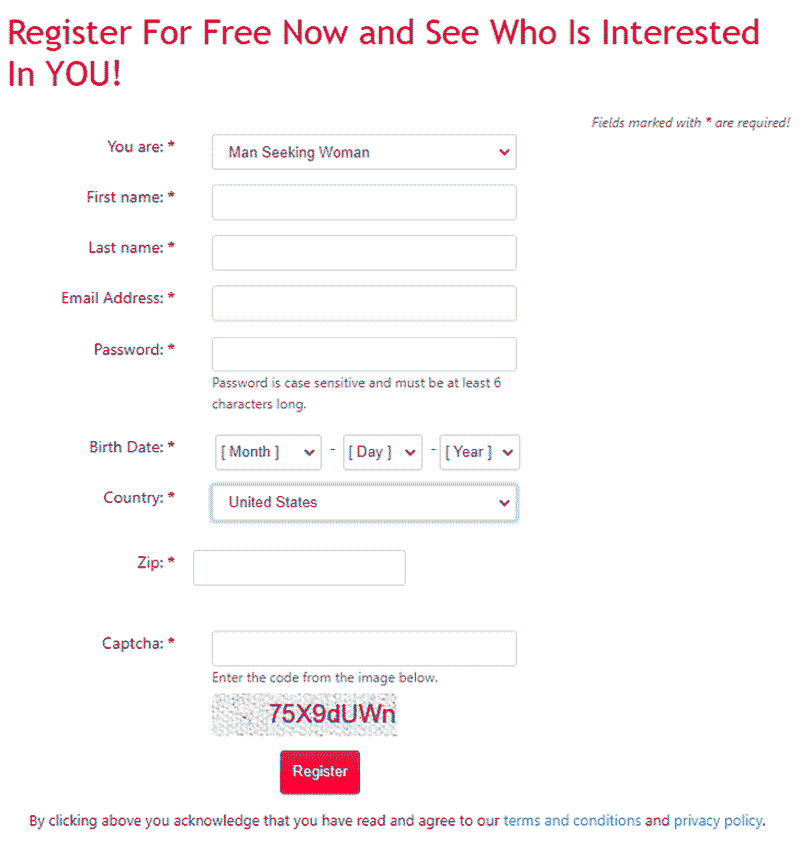 Positives
An effective international dating website with over 25 years of experience.
Over seventy romance tour destinations to mingle with local women.
A sophisticated search engine.
A remarkable quantity of attractive foreign women.
Option to send flowers and presents to any country.
Negatives
There are a lot of phony profiles.
Several hidden fees.
There are no assurances of safety.
Difficult to use website
Outdated web design and user interface.
Conclusion,
Other international dating websites experience the same issue as LoveMe.com with phony profiles on their websites. The dating sites listed below can be viewed as LoveMe.com's rivals, albeit having significantly different objectives. LoveMe.com is primarily an interracial, long-distance dating site with an emphasis on Eastern Europe and South America. There are numerous such sites, but we have focused on three that have been around for a while. Two are websites from the Cupid Media network. These come with less expensive add-on features and more self-selection options. The most comparable MOB websites in terms of setup are RussianCupid and AnastasiaDate.
LoveMe.com or A Foreign Affair has been active on the dating scene for so long and has built its reputation by starting thousands of meaningful relationships and happy love tales. The website contains a huge database of stunning women from South America, Asia, and Eastern Europe. The website's distinctive selling point is its romantic tour service, which it offers in addition to professional help with all the problems that arise in cross-border marriage, such as visa applications and legal complexities. All of these additional items are, of course, not free.
The AFA website's main drawback is that it's impossible to tell whether a woman's profile is real or not, and you may easily get carried away and overpay for extra features you don't require. This website is a sensible, if somewhat pricey, option if you're looking for a wife overseas and would like some guidance along the way.